When discussing the physical properties of substances, especially in the realms of physics, chemistry, and engineering, two terms that frequently come up are "density" and "specific gravity." While they both describe the relationship between mass and volume, they are distinct concepts with different applications. In this article, we'll delve into the definitions of density and specific gravity, their differences, and how they are used in various fields.
Density:
Definition: Density is a fundamental physical property that measures how much mass is packed into a given volume. It is typically represented by the Greek letter ρ (rho) and is calculated using the formula:
Density (ρ)=Volume (V) / Mass (m)
Where:
ρ (Density): The density of the substance in units such as kilograms per cubic meter (kg/m³) or grams per cubic centimeter (g/cm³).
m (Mass): The mass of the substance in kilograms (kg) or grams (g).
V (Volume): The volume of the substance in cubic meters (m³) or cubic centimeters (cm³).
Key Points:
Density is an intrinsic property of a substance, meaning it remains constant regardless of the quantity or size of the sample.
Different substances have different densities, making it a useful property for identifying materials.
It is commonly used in various scientific disciplines, including physics, chemistry, and engineering, to describe the compactness of matter.
Specific Gravity:
Definition: Specific gravity, often denoted by the symbol SG, is a dimensionless ratio that compares the density of a substance to the density of a reference substance, typically water. It provides a relative measure of how dense one substance is compared to another.
The formula for specific gravity is:
Specific Gravity (SG)=Density of Reference Substance / Density of Substance
In most cases, water at a specific temperature and pressure (usually 4°C and 1 atmosphere) is used as the reference substance, so the specific gravity of water is always equal to 1.
Key Points:
Specific gravity provides a relative comparison between the density of a substance and the density of water. If SG is greater than 1, the substance is denser than water; if less than 1, it's less dense.
Specific gravity is often used in industries such as brewing, winemaking, and petroleum to determine the concentration or purity of a substance.
It is a valuable tool for engineers and scientists working with fluids to understand buoyancy and fluid behavior.
Differences Between Density and Specific Gravity:
Units: Density has units such as kg/m³ or g/cm³, while specific gravity is dimensionless since it's a ratio of two densities.
Reference Substance: Density is an absolute measure of how much mass occupies a given volume. Specific gravity, on the other hand, compares the density of a substance to that of a reference substance, typically water.
Constant vs. Relative: Density remains constant for a substance, while specific gravity provides a relative comparison to a reference substance.
Applications: Density is widely used in scientific fields to describe materials and their compactness. Specific gravity finds applications in industries like brewing, winemaking, and engineering to assess concentrations and buoyancy.
In summary, while density quantifies the compactness of a material, specific gravity offers a relative measure of density compared to water or another reference substance. Understanding these differences is crucial in various scientific and industrial contexts, ensuring precise measurements and calculations.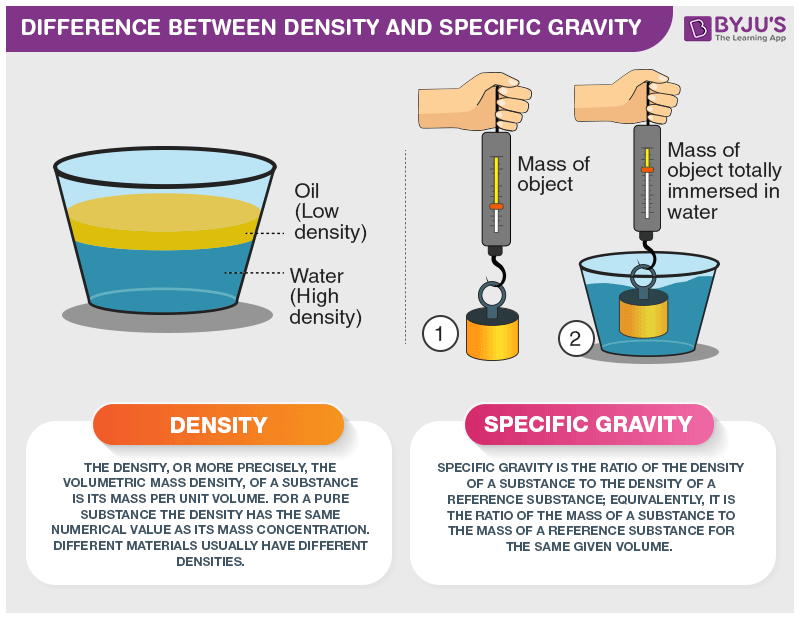 ​


​