An integral part of the drilling process, iron roughnecks connect and disconnect drill pipe. Whether pipe is being fed into the wellbore or it is being taken out, the iron roughneck uses a rotary table and torque wrench(es) to make up or break down pipe.

What was once an extremely dangerous process on the rig floor has now become almost completely automated in most drilling situations. Iron roughnecks of today are fed pipe mechanically, and drillers are relatively removed from the process, many times remotely handling drilling operations from an automated drillers cabin, increasing safety and efficiency on the rig.
Despite drill pipe automation, men and women who work on the rig (usually beginners) are still coined "roughnecks," named after the process of linking drill pipe together.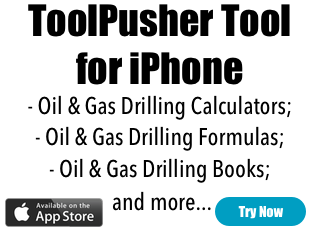 Iron roughnecks clamp the bottom pipe, providing torque, while a spinning or rotary wrench turns the top pipe. Thirty-foot sections of drill pipe have one female end (or tool joint) with inside threads, or a "box," and one male tool joint with outside threads, or a "pin." Pipe is strung together by twisting the box and pin pieces together.

When a drill bit needs replacement or the well has been completed, pipe is simply turned the other way to break it down.