What is Hook Load?
Hook load refers to the force exerted on the derrick's hook or traveling block due to the weight of the drill string and other equipment suspended in the wellbore. It is essentially the total weight that the drilling rig's hoisting system must support while drilling is in progress. Measured in pounds or tons, hook load encompasses not only the drill pipe but also the collars, drill bit, bottom hole assembly, and any other tools or accessories attached to the drill string.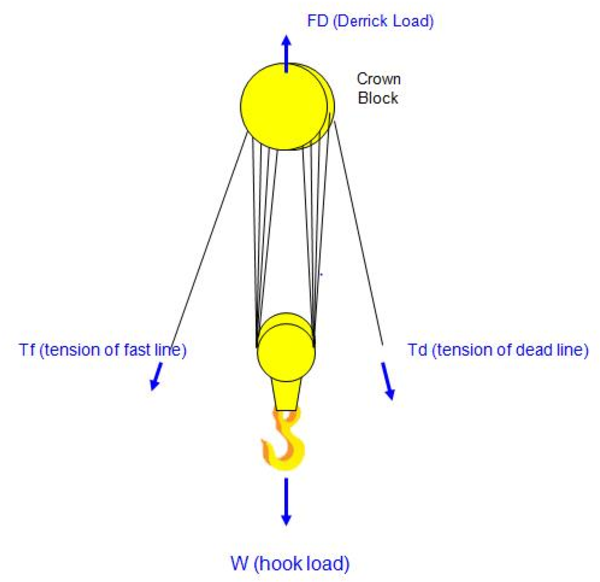 Significance of Hook Load
Understanding hook load is essential for several reasons:
Safety: The rig's structural integrity and equipment reliability are directly linked to managing hook load. An accurate understanding of the hook load prevents overloading, which can lead to equipment failure, accidents, or even catastrophic incidents.
Drilling Efficiency: Maintaining the right hook load ensures efficient drilling operations. Improper hook load management can result in unnecessary downtime due to equipment damage or failure, reducing overall productivity.
Wellbore Stability: Excessive hook load can exert additional stress on the wellbore, potentially causing formation damage, instability, and even well collapse. Proper hook load management is crucial to prevent these issues.
Factors Affecting Hook Load
Several factors influence the hook load on a drilling rig:
Drilling Depth: The deeper the well, the longer the drill string, and consequently, the higher the hook load.
Drill String Components: Different components of the drill string, such as drill pipes, collars, and bottom hole assembly, have varying weights, contributing to the overall hook load.
Mud Weight: The weight of the drilling fluid (mud) in the wellbore affects buoyancy, which in turn impacts the hook load. Heavier mud can increase the hook load.
Tool Weight: Various tools and accessories attached to the drill string, such as mud motors or measurement-while-drilling (MWD) equipment, add to the overall hook load.
Formation Pressure: Pressure exerted by the formation being drilled can impact the hook load, especially when encountering high-pressure zones.
Managing Hook Load
Proper hook load management is a collaborative effort involving drill operators, engineers, and geologists. It includes:
Monitoring: Continuous monitoring of hook load during drilling operations ensures that it remains within safe limits. Advanced sensors and data analysis play a vital role in this process.
Planning: Rig operators must anticipate hook load changes based on drilling parameters and adjust operations accordingly.
Weight Transfer: Techniques like sliding, rotating, and reciprocating can help redistribute the weight along the drill string, minimizing wellbore stress and enhancing drilling efficiency.
Communication: Effective communication between the rig crew, drilling engineers, and geologists is vital to address hook load challenges promptly.
Conclusion
Hook load is a critical parameter in drilling operations, impacting safety, efficiency, and wellbore stability. Rig operators and engineers must have a deep understanding of hook load dynamics and how various factors influence it. By effectively managing hook load through monitoring, planning, and collaboration, drilling operations can be conducted smoothly and safely, contributing to successful oil and gas extraction endeavors.